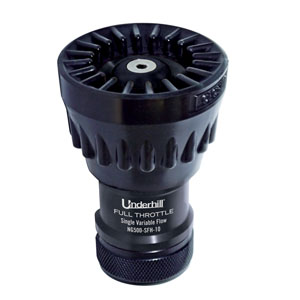 Magnum UltraMax Premium Full Throttle Shift Nozzle 3/4" FHT
Step up to the most professional nozzle you can buy - Magnum UltraMax. Firefighter quality for professionals in any field, these variable flow, multi-function nozzles are virtually indestructible and leak proof. The innovative TURBO SHIFT feature, available in both high-flow and low-flow models, provides two distinct L/min ranges for added versatility. And the outstanding distribution patterns of all MAGNUM UltraMax nozzles make them excel in high demand areas like greens/tees,  infield conditioning and equipment and stadium washdowns.
Features/Specifications:
Multi pattern spray: Fog, Jet Stream, Fan
Built for 1" and 3/4" Hose Flow Rates
Materials: Aircraft Aluminium, Stainless Steel, TPR Rubber
Full Throttle:
Single Variable Flow: Delivers steady, maximum volume fog, jet stream and fan patterns.
Two Models Available to order
UI/NG500-SFH-75   57-151 L/min   High Volume Model
UI/NG500-SFL-75    45-72 L/min    Low Volume Model
All flow rates based on 5.5 bar
Composite valve and Brass quick connect available
To order or for any enquiry please contact us by email or by phone.
Email: sales@twl-irrigation.com
Tel: 01346 531193