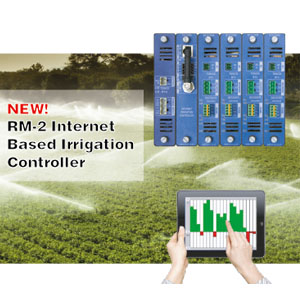 Benefits
25% - 40% Savings with Water Balance control
Remote Monitoring using PC, Smartphones and Tablets over GPRS, 3G Wi-Fi, Radio & Satellite
Water Balance & Timed irrigation
Up to 496 decoder stations
Decoders proven in more than 300,000 stations over 20 years
Centralised control, will work with most SCADA Systems
Sensor Decoders: Moisture, Pressure, flow, digital input
Multi language support
Market Sectors
Agriculture Irrigation
Large Scale City Watering, SCADA
Golf Irrigation
Overview
The RM-2 Rainmaker irrigation controller provides a solution for large scale irrigation applications. Providing both remote connectivity and optional water balance control, the RM-2 is a very powerful and scalable irrigation controller. The RM-2 comes with both an Ethernet and an integrated 3G modem providing remote access via your smart phone, tablet, PC or centralised monitoring system. The unit is configured using its own web interface, enabling the user to setup watering stations and program times. Features
Can use Gold Standard Irrigation Method " Water Balance"
Built in Hydrozone calculator
Automatic adjustment of watering times based on just two daily parameters
Optional Flow, Pressure and Moisture Monitoring
Provision for Fertigation
Water Budget control
Email & Text Alarms
Web Page Configuration
The RM-2has an integrated web server allowing users to configure the RM-2 using a standard web browser. This means it does need not to rely on a 3rd party server, with its associated additional fees. The web interface will display historic alarms and the current the status of each watering station. The web interface allows the user to test individual or groups of stations by using the manual override feature. This is very useful during the commissioning phase of the project.
Tonick decoders
With 1, 2, 3 and 4 outputs for 24VAC valves
DC latching solenoid option.
Decoder In A Solenoid (DIAS)
5 year warranty, including lightning damage
Communication Interfaces
Ethernet,3G & GPRS, Wifi*,Satellite*Radio.
Protocols Supported
Modbus TCP & RTU, DNP 3.0, Open VPN, SM
To order or for any enquiry please contact us by email or by phone.
Email: sales@twl-irrigation.com
Tel: 01346 531193